Second victim dies after car rams into Roswell bus stop | News
ROSWELL, Ga. -- A second person died after a 68-year-old woman struck three pedestrians at a bus stop in Roswell Thursday afternoon.
Police confirmed Friday that a female victim died at North Fulton hospital.  She was identified as 41-year-old Larsharon Clark. 
The Fulton County Medical Examiner's office said the man killed on Thursday was 55-year-old Curtis Freeman of Roswell.
"He was such a vital part of our team and our family," one friend said.
A day of sorrow was found inside the Roswell Nursing and Rehabilitation Center where Freeman worked. 
"He always made you smile; always singing a song because he was affectionately known as Curtis Love," friend Gail Bohannon said. "He was a man of love."
"He would light up the residents' day," co-worker Dianne Patterson said. "He would go down the hall singing to them if he saw someone was having a bad day, he would go out of his way to make sure they had a smile on their face. He will be immensely missed by our residents and our staff."
Now a third victim, known by his friends as "El Fuego" Solano is holding on in the intensive care unit at North Fulton Medical Center.
"People are waiting in twos to go see him in the hospital," Marc Wegman of Adele's on Canton said. "He's part of our family."
Solano is an employee at the area restaurant.
"He's always there he's always got a smile on his face," Wegman said. "We're laughing all day and that's rare in the restaurant business."
Solano's pelvis fractured when police said the 68-year-old female driver of the car slammed into the bus stop.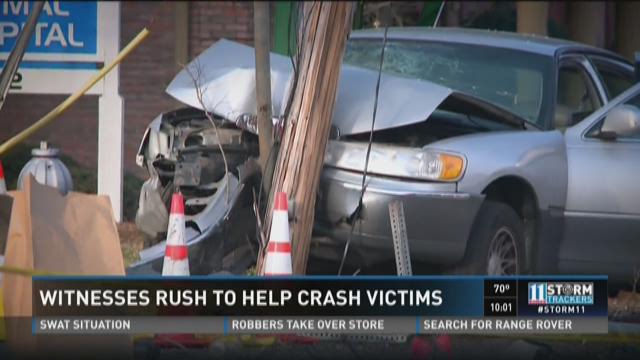 The car swerved to avoid hitting a bus, striking the three pedestrians at the intersection of Alpharetta Highway at Fraser Street and then hit a utility pole.
"Apparently the bus had just stopped and they were about to pick up the passengers and for some reason unknown yet, she was about to hit the rear of that bus and swerved to avoid the collision," Officer Lisa Holland said.
Georgia Power worked late into Thursday night on the utility pole that was damaged. Police have not yet determined if they will charge the 68-year-old driver.
"We have a special unit that comes out that investigates the crash so charges will be pending against the driver depending on the outcome of the investigation," Officer Holland said.
"Our hearts also are very much with the two deceased and the lady who had the accident," Wegman said. "It's a very, very tough time for all of us."
As for the cause of the crash, investigation could take weeks or even months.