Criminal charges pending for 5 teens involved in fight | News
ATLANTA -- Five Centennial High School students are facing criminal charges for a lunchroom brawl at their school Thursday.
Cell phone video of the fight is circulating among students and 11Alive obtained a copy from the parent whose child was not involved, but is upset the school didn't notify parents right away.
Another parent, after seeing the video, agrees.
"I like to stay in tune with the school, so a letter or an email, should have gone out that day (yesterday) to let us know something like that happened. That was a pretty bad fight. That was a pretty bad altercation," said Stephanie Patterson, parent of a sophomore at Centennial High School.
School officials say started with two boys fighting over a girl, when three others jumped in. At one point, four boys are beating-up on one. They rip his shirt. One hits him with a shoe.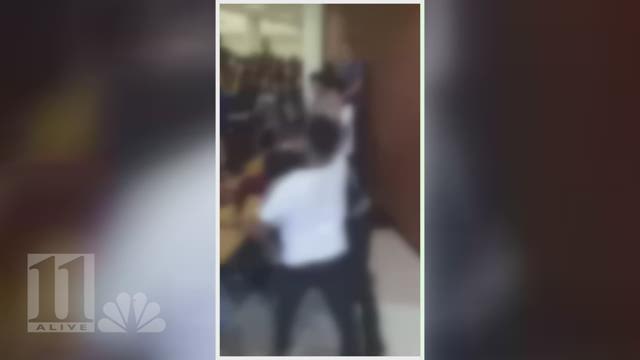 The video is only 32 seconds long, but given the noise and commotion it surprises Patterson no one stopped it sooner.
"The teachers are supposed to be there to protect the students. And for it to go on for so long and no one intervened. I'm not shocked that the students break it up, but I'm shocked that the teachers were not around to stop that fight. It went on for way too long," said Patterson.
In a letter to parents, Principal Kibby S. Crumbley, told parents about the fight and said "resource officers and teachers on lunch duty quickly broke it up" and it was "an isolated incident".
The full letter said the following:
Dear Centennial Family,

At Centennial we value open and honest communication, so I want to share information about a student fight that occurred yesterday afternoon. The news media may report on this, so I wanted you to hear this information directly from me.

During 4A lunch, five students made a poor decision by fighting in the cafeteria. Our resource officers and teachers on lunch duty quickly broke it up and the students involved received appropriate disciplinary consequences. This kind of situation is not typical for Centennial at all and it was an isolated incident. I want to reiterate that student safety and academics are our top priorities at Centennial High School.

As a precaution that is taken whenever there are student incidents, we have an additional resource officer on campus today and all administrators are highly visible. However, we do not anticipate any additional problems – our school is safe.

We continue to celebrate and be very proud of the many exciting student accomplishments occurring every day on campus (please see my Principal's Desk newsletter coming out later today). We will not let the poor choices made by a few students detract from our successes. Thank you for your support of Centennial High School.

Sincerely,
Ms. Crumbley
The mention of the isolated incident is in response to parent concerns the fight was gang-related. A district spokesperson said they have investigated and are certain the fight was about a girl and did not involve a gang.
But, the principal added in her letter "as a precaution… we have additional resource officer on campus today…"
The Fulton County School district released the following statement: "We are disappointed in these students' actions and are responding with appropriate disciplinary action and charges. Student safety and academics remain the top priorities at Centennial High School."