Police rescue two dogs in hot cars in same lot | News
ROSWELL, Ga. -- In less than two hours a video posted on a police department's Facebook page had more than 30,000 views. It's an example of how upset people get when people leave their pets in hot cars, and how often it happens.
Roswell Police received a 911 call at around 11 a.m. Tuesday when temperatures has already reached into the mid-90
'
s. A dog was found in a hot car in the Home Depot parking lot on Holcomb Bridge Road. Officer Bill Lowe used his cell phone to video fellow officer Michael Shrout checking the temperature in the car.
Shrout used an infrared temperature gauge to measure the temperature at 150-degrees, even though a window in the car was cracked open.
"
We arrived out there to the scene and saw the dog appeared to be in distress, panting heavily in the back seat,
"
said Ofc. Lisa Holland.

UPDATE | Animal cruelty? Husband of charged woman says no

Police had the owner of the car paged from inside the store. Elaine Freeman, 77, of Dunwoody was charged with misdemeanor Cruelty to Animal. Officer Holland said the dog will be okay.
"
They took it to the garden department, hosed it off with water to cool it down, and also provided water for the dog,
"
she said.
While police were making the arrest they noticed another dog in a parked car, in the same parking lot. Elizabeth Spence, 48, of Roswell, was charged with Cruelty to Animals for leaving her Chocolate Lab in her car.
"
They immediately say we only were inside for just a minute, we had to run inside and get something,
"
Ofc. Holland said. But it doesn't take long for cars to reach deadly temperatures, especially with temperatures like this week.
After police posted the video on their Facebook page many people commented and asked what they should do if they see a pet in a hot car. Some suggested breaking the windows to free the animal. But police say they have officers all over the city and are only minutes away from a 911 call.
"
So when you call 911, most likely there
'
s an officer close by,
"
said Ofc. Holland.
"
You call 911 the dispatcher will tell you how close we are.
"
Ofc. Holland said the infrared temperature gauge is not issued by the department. Officer Shrout purchased it on his own. They cost around $30. Holland said a citizen has offered to buy the gauges for the Department
'
s day-side patrol officers.
You can follow Kevin on Twitter @krowson11alive and like him on Facebook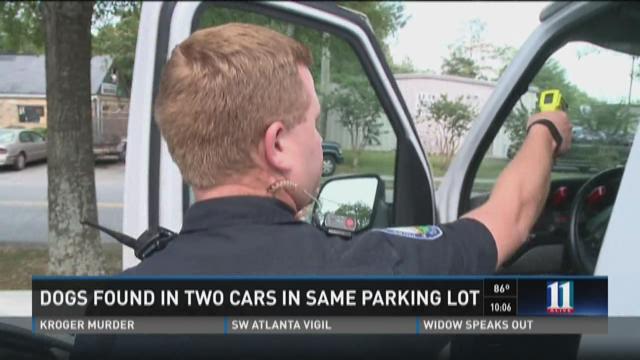 More inspirational and cute pets: