Suspects stole high-end violins | News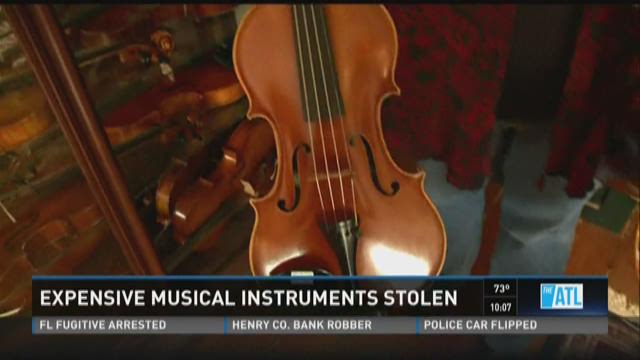 ROSWELL, Ga -- Two men are in jail after police found hundreds of thousands of dollars' worth of musical instruments in their hotel room. Roswell Police said the instruments were stolen from three area music stores, but they have not found the owners of some of the instruments.
The case unfolded in Raleigh, NC where a music store owner became suspicious of two men who tried to sell the store expensive violins. Roswell police said the store owner did some research on line and found that some of the violins belonged to a store in Roswell.
Atlanta Violins Office Manager Megan Hallam said the owner of the North Carolina store called her to see if the violins belonged to her. Hallam didn't
realize the violins, valued at over $40,000, were missing until then.
"
We're very relieved,
"
Hallam said.
"
We're thrilled.
Police said some of the instruments they recovered were from a store in Lilburn and a store in Alpharetta. More than $200,000 worth of instruments, including an $80,000 violin were stolen from the Lilburn store.
Police said Hallam helped police catch the two suspects. Gary Crouse, 60, of Roswell and Leslie Fields, 52, of Roswell are charged with Theft by Receiving Stolen Property.
On Wednesday Hallam said Crouse walked into the store looking to buy violin cases. She became suspicious and called police. Police officers followed Crouse to the Studio 6 extended stay hotel on Old Dogwood Road in Roswell. Crouse was staying there with Fields.
"
The detective was able to locate all the stolen violins along with a bunch of other instruments that were stolen from Gwinnett County and from Alpharetta,
"
said Officer Lisa Holland.
Police have not found the owners of two oboes, two trumpets and a clarinet they recovered. They are asking Atlanta area music stores to check their inventory and contact Det. Farabaugh at 770-640-4100 if they are missing any instruments.
You can follow Kevin on Twitter @krowson11alive and like him on Facebook